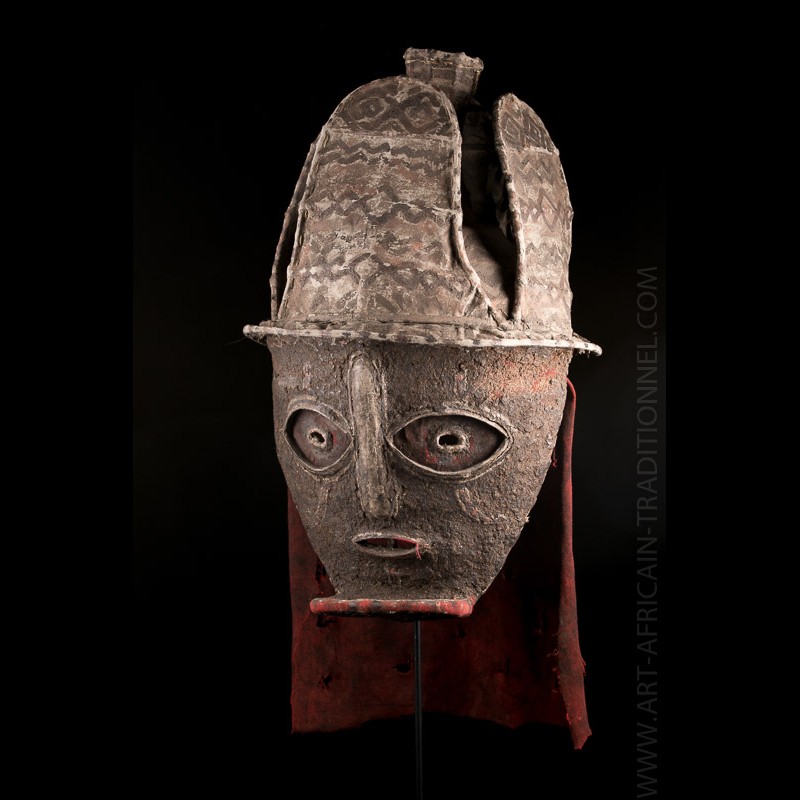  
Chikungu Chokwe mask
In African art, there are very exceptionally African masks such as this one. It is a Chokwe mask of the Chikungu or Cikungu type from the northwest of Zambia. This remarkable collector's item consists of a wooden frame covered with fabric, itself inlaid with a thick crusty patina and pigments.

These traditional masks contrast with wooden ones of various types in several ethnic groups and subgroups spread across Zambia, Angola and Congo DR. Among these groups, the Chokwe of course but also the Luchazi, the Lwena, the Lunda and the Mbunda. In these countries, the fact of wearing a mask is part of the identity but is also linked to the worship of the ancestors as well as to a certain representation of the social order and traditions.
The masks appeared during various festivities and constituted, for some of them, an object of prestige for the chefs. The most important of these festivities was undoubtedly the Mukanda initiation. It is a ritual process that all young boys have to go through and that allows them to reach the wisdom of adulthood. It should be noted that the Mukanda is not exclusive to the groups mentioned above but that there are variants of it among the Holo and Yaka for example. The term Makishi includes all the characters, and therefore the masks, which occur during the Mukanda and other ceremonies.

Among these masks, among the Chokwe, the Cikungu, a powerful royal figure reserved only for high dignitaries dancing on rare occasions such as: coronation ceremonies and propitiatory rituals. An equivalent mask exists among the Luvale and bears the name of Kayipu or Kahipu, considered to be the king of the Makishi. During the Mukanda, other masks intervene with specific objectives, such as the Cikunza for example with their high headdresses.
Data sheet
Presumed dating

Circa 1940

Size

46 x 26 cm

Ethnic group

Chokwe / Tchokwe / Tschokwe

Country

Zambia

Origin

African art gallery

Condition

Excellent
You might also like