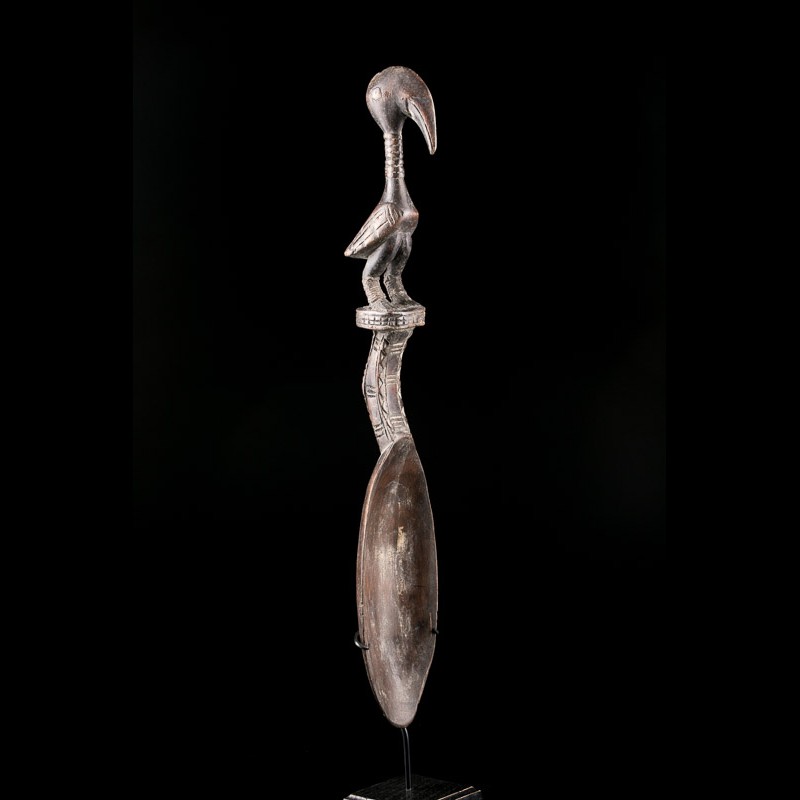  
Guro Wunkirmian spoon - SOLD OUT
These spoons are known by many names, including wakemia or wunkirmian, which roughly translates as "spoon associated with feasts." The spoons range in size and have one or  two parallel bowls. The handle of the spoon is always decorated, most often with a female head, or the handle of the spoon has legs that give it an anthropomorphic form. The owner of the spoon is called wa ke de, meaning "at feasts acting woman." It is a title of great distinction that is given to the most hospitable woman of the village. With the honor, however, comes responsibility—the wa ke de must prepare the large feast that accompanies masquerade ceremonies.
This Guro spoon topped with a hornbill bird was published in the book Spirits of Africa - volume I, B. GAUNT, 2020 (see photos). Ref SQ7979695

"Through this book, B. Gaunt, specialist in tribal arts and antiques presents various aspects of African art. You will also learn more about Mr. Gaunt's eclectic professional career which gives him a unique profile and adapted to his mission. responsible for the collections of a British museum.
Through a selection of exceptional objects, immerse yourself in the heart of the cultures and rituals of West and Central Africa."
Piece from a large collection of traditional art objects from Mali, Burkina Faso and Ivory Coast.
Data sheet
Presumed dating

Circa 1950

Size

40 cm

Expert's estimate

Ethnic group

Material(s)

Wood

Country

Origin

Tribal art collection Belgium

Stand

Included

Condition

Excellent
You might also like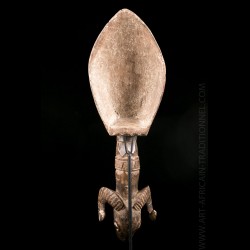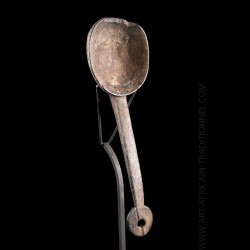 Customers who bought this product also bought: