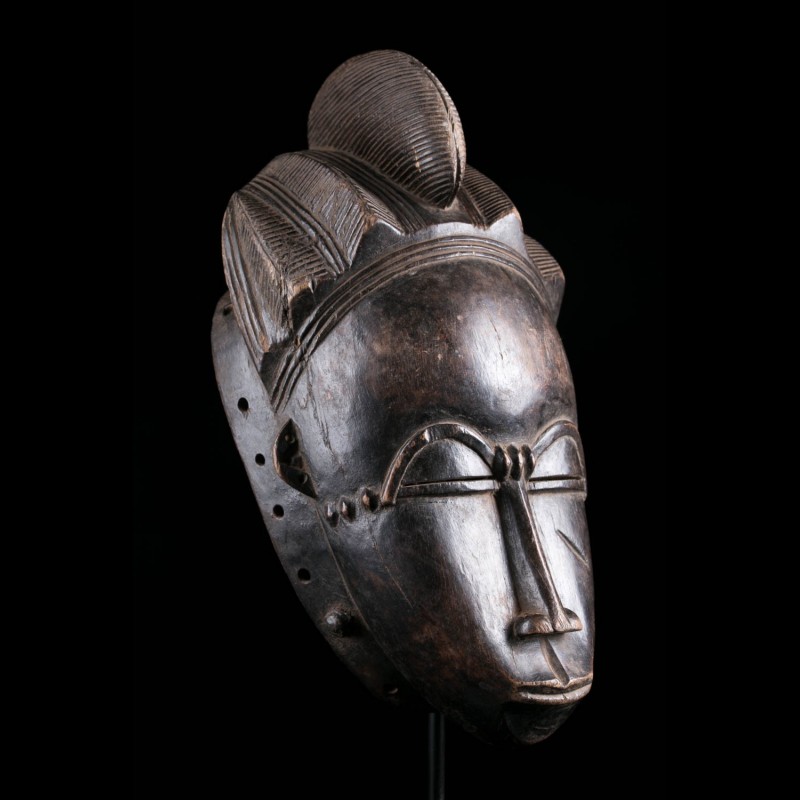  
Mblo Mask Baule - SOLD OUT
African mask Mblo type related to the festivities
The Baoulés are a people of Ivory Coast, living mainly in the center of the country, near the cities of Bouaké and Yamoussoukro. They represent about 23% of the population of the country (about 3 943 667 individuals) which makes Baoulé the first ethnic group of the country before Betes and Senoufos who constitute respectively the second and third ethnic group of the country. The Baoulés are part of the Akan group, and are from neighboring Ghana. They settle in Ivory Coast in the eighteenth century, guided by Queen Abla Pokou.
The name Baule comes from the sacrifice, by queen Pokou, of one of her sons to cross a river, while leading the flight of her people from Ghana: "ba or li" ("the child is dead "). Baoulé settled between the rivers Bandama and Comoé.
Authentic traditional mask Mblo genre which we note the beautiful smooth patina and specific typology.
Origin : private collection V. Briard, France Dating : 1950-1960 Size : 34 x 17 cm Material : heavy wood 
Data sheet
Presumed dating

Mid XXth century

Size

Expert's estimate

Ethnic group

Material(s)

Wood

Country

Origin

Tribal art collection France