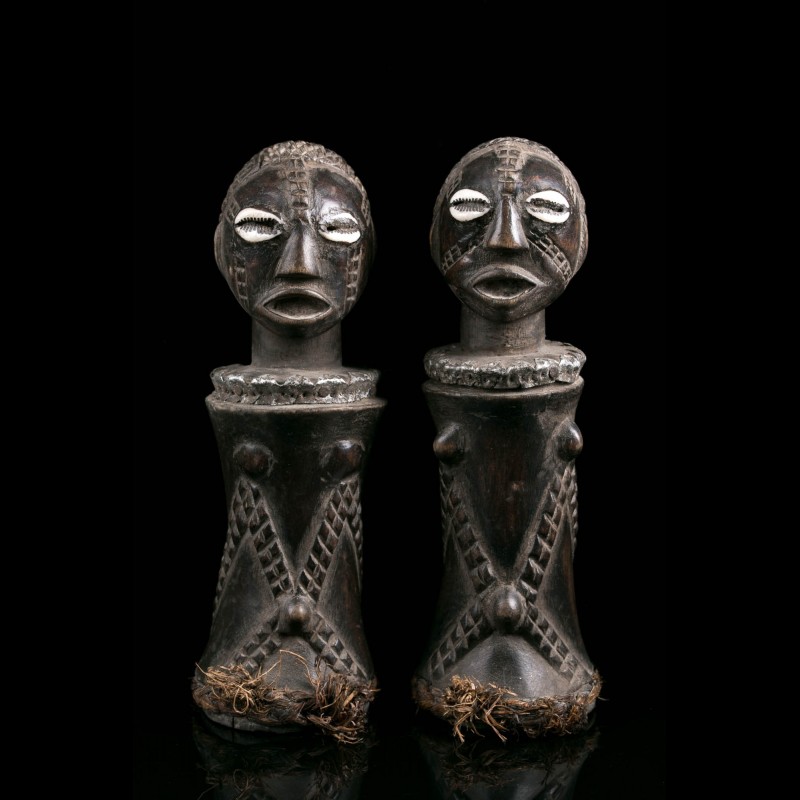  
Pair of Mpundu dolls - Tabwa - Congo - SOLD
The cult of twins in traditional African art
Small cylindrical doll topped with a head that bears characteristic scarifications. The eyes are made of cowrie shells. These pieces are related to the cult of twins among the Tabwa and occupy the same function as ibeji among the Yoruba.
Once again, P. Vandenbergh amazes us with the variety of pieces he has collected during his life as a collector. His impressive collection of several hundred pieces, some of which have been exhibited in tribal art fairs, have been entrusted to us. The majority comes from the DRC, a country where many different ethnic groups are located, each with their own style. The Vandenbergh collection thus represents not only a long collection work, the expression of a personal affinity for forms and uses, but it also constitutes a physical and concrete testimony of what Congo has offered in terms of art. tribal, ancestral culture and stylistic inspiration.
Authentic dolls sold by our African tribal art gallery.
Origin : private collection P. Vandenbergh, BelgiumDating : mid 20thSize : 22 x 5 cmMaterials : wood, shells
Data sheet
Presumed dating

1st half XXth century

Size

Ethnic group

Material(s)

Wood

Country

Origin

Tribal art collection Belgium
You might also like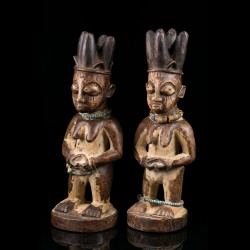 Regular price
€295.00
-30%
Price
€206.50