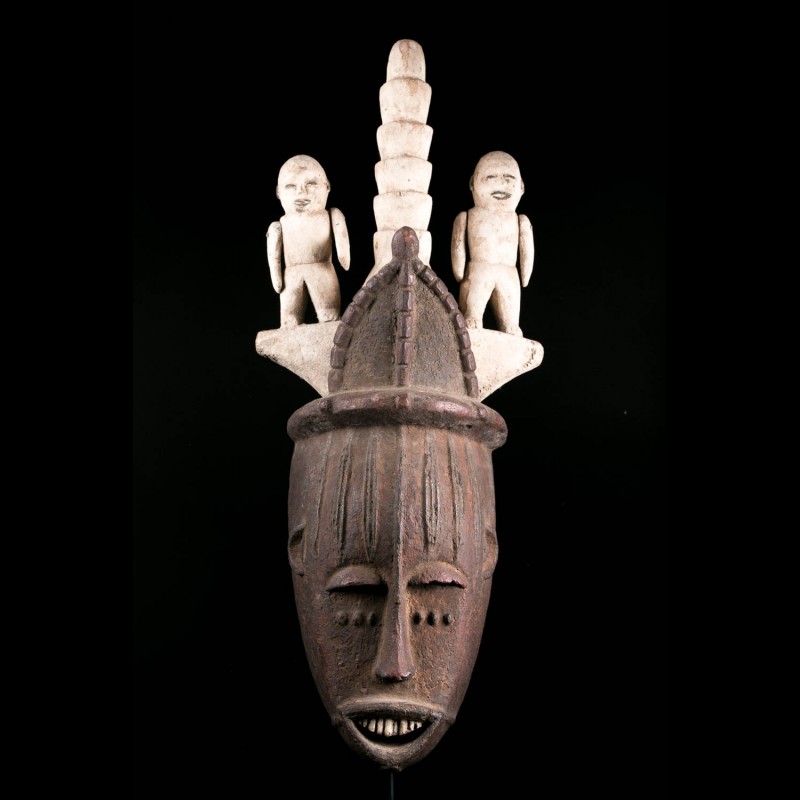  
Authentic Omotopkokpo mask - Urhobo / Isoko - Nigeria - SOLD OUT
Rare traditional African mask in Urhobo art
The patina of use is highly visible, traces of friction are noticeable at the level of the wearer's chin, the small orifices have clearly suffered the damage of an attachment of ritual dress, the crust patina of this mask is mixed with a perfect polychromy , the characters covered with agile white are in excellent condition, the iconography of this mask is perfect, which make this mask a work of art extremely rare. A similar but less complete copy went to sothe-by's in May 2016.
The works of Urhobo, a small, ethno-ethnic group living in the northwestern part of the Niger Delta, which are not well known but of high aesthetic quality, include clay and wood sculptures used to honor ancestors and ancestors. supernatural forces, as well as masks associated with the spirits of water and earth. [...] "The information available on the meaning of the mask is diverse, but suggests a fundamental connection with Ohworu, a powerful spirit of water.
On the one hand, the mask is described as one of the "children of the spirit" (emedjo), which appear when the Niger River has reached its highest level in order to bring the "blessing of deep water In villages, however, this mask is supposed to represent a "girl with a young body" (omotokpokpo). Perkins Foss, the latter involves a girl of nubile age (opha), who stands under the protection of the spirits of the waters and who, when presented as a bride, wears a complex hairstyle of the kind evoked by the superstructure mask gracefully arched and extensions of 3 character on the headdress.
The fine lines of the face emphasize the fact that it is indeed a female representation. The eyes are oval and tapered, the eyelids lowered, the nose straight and wide mouth respecting the typology.
Origin : private collection, FranceDating : 1940'sSize : 61 x 23 cm Material : wood
Data sheet
Presumed dating

Circa 1940

Size

61 x 23 cm

Ethnic group

Material(s)

Wood

Country

Origin

Tribal art collection France