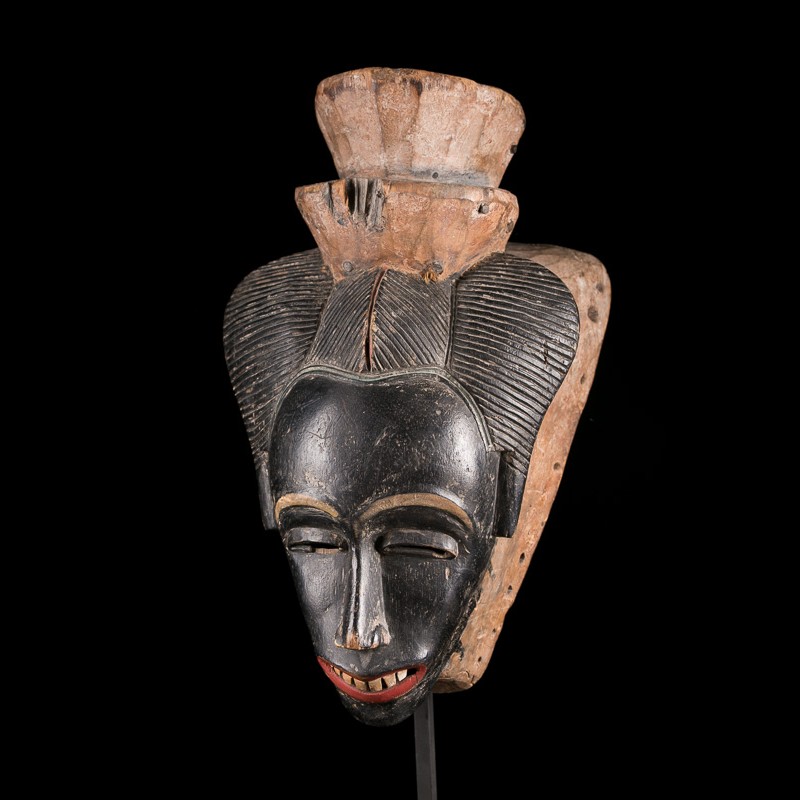  
Guro mask
A wooden mask of a female with large elaborate coiffure in the form of a central panel with side sections, all engraved with parallel lines. To the top of the head is a pair of basket shaped headdresses one on top of the other and with the top one having a series of holes for the insertion of feathers or plant fronds. The face is sensitively carved with high forehead, arching brows, large pointed nose, heavy lidded half open eyes and a wide open smiling mouth displaying the teeth. The sides of the mask are pierced to allow the attachment of a seperate raffia collar.

This mask represents Gu, a female spirit who forms part of a larger family of spirits within Guro society. This group consists of Zauli, a horned figure with grotesque features; Zamble, another horned figure whose face is meant to look like a leopard or crocodile. These two figures dance in order to detect sorcerers or resolve arguments, as well as perform at funerals. Gu is thought to be Zamble's wife and she moves gracefully only to the sound of a flute, singing songs of praise about her husband. The face is that of a young woman and displays the concepts of idealised beauty among the Guro.

Part supplied with provenance document from the previous owner.
Data sheet
Presumed dating

Circa 1920

Size

32 x 18 cm

Expert's estimate

2500 - 3000 €

Ethnic group

Material(s)

Wood

Country

Origin

Tribal art collection Belgium

Condition

Excellent