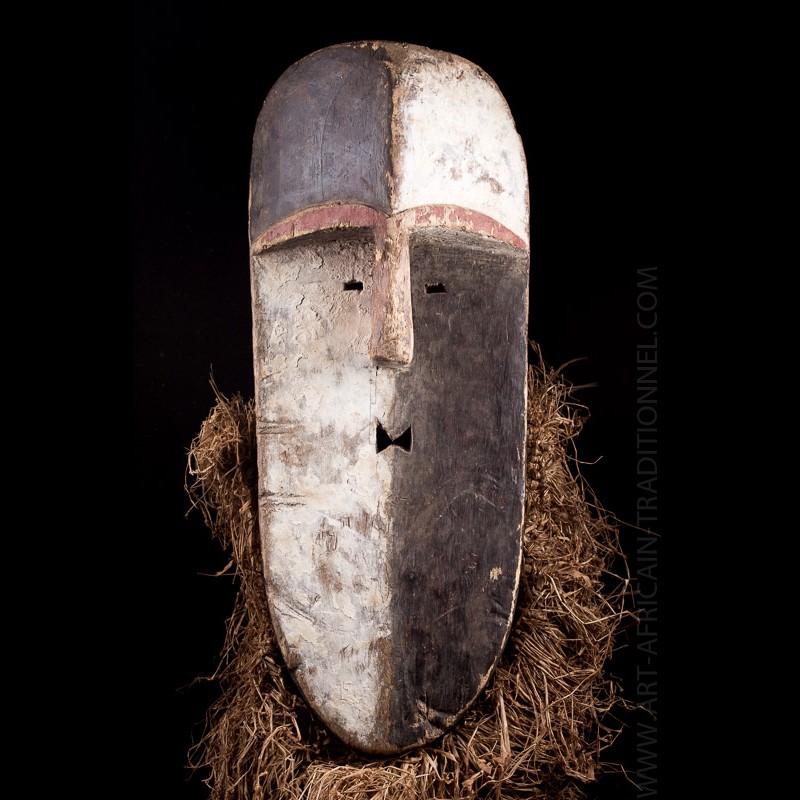  
Large facial mask Aduma - SOLD OUT
Flat masks in traditional African art of Gabon
The traditional masks of the Ogooué basin can be recognized by the features of the face accentuated by the geometry of the flat areas of color. These stylized faces bleached with kaolin and enhanced with red powder extracted from tukula bark are common to many cultures.
They materialize the cultural continuum that forms this zone of contacts where the stylistic and cultural borrowing revitalized the plastic creation during migrations and exchanges along the Ogooué river, hence the uncertainty as to the function of the masks of this region .
The beard in raffia is still present.
Authentic mask in the style of the one collected during the mission Pierre Savorgnan de Brazza (1883-1885) ex Dr. Schweibisch and François-Romain Thollon now present at the musée du quai Branly inv. 71.1884.37.4
This tribal mask is offered at a price lower than the estimate established by independent experts from the Catawiki auction house in the Netherlands.
Data sheet
Presumed dating

1st half XXth century

Size

53 x 20 cm

Expert's estimate

600 - 700 €

Ethnic group

Material(s)

Wood, raphia

Country

Origin

Tribal art collection France

Condition

Excellent
Customers who bought this product also bought: