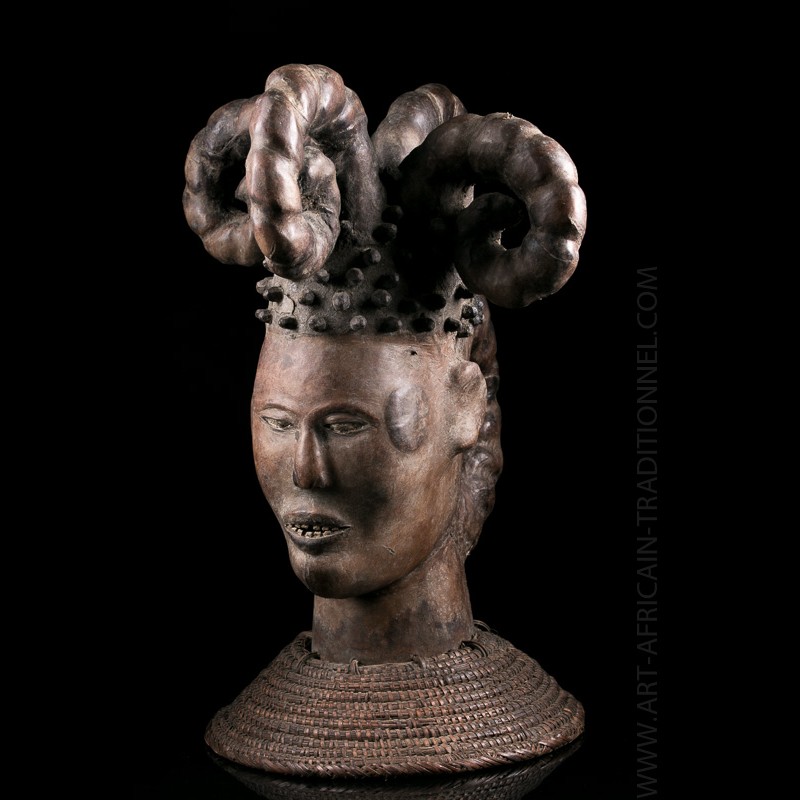  
Ejagham crest mask - SOLD OUT
Remarkable African crest of Cameroon
The character wears a monumental hairstyle composed of spiral appendages. These testify to a real technical know-how in the perfection and the symmetry of the coils.
According to ethnographic accounts, this hairstyle was originally worn by young girls during the initiation and the period of seclusion before marriage.

The braids were made on the basis of a rigid frame and an over-modeling of earth that held together.
The artistic corpus of the Cross-River region is distinguished by the use of a technique - unique in Africa - of covering animal skin with a carved wood structure to give it a very realistic look.
This technique is mainly used for traditional crest masks and masks called helmets.
The tanned skin then stretched on the wood restores the grain, brightness and volume of human flesh on the skeleton and gives these works a powerful reality. The treatment of the eye is also part of this quest for realism: the white is rendered by the use of kaolin, conferring on the eye an intense truth. Discrete indigenous repairs at the level of the cap.
Compare this piece to another Ejagham crest mask proposed by Sotheby's. The pieces are very similar. Maybe from the same workshop.
Reference : L'art africain, J. Kerchache, 2008
Data sheet
Presumed dating

1st half XXth century

Size

43 x 28 cm

Expert's estimate

Ethnic group

Ekoi

Material(s)

Wood, leather

Country

Cameroon

Origin

African art gallery
Customers who bought this product also bought: